Features
"Records a wealth of data" —Macworld
"Obsessively complete" — Wired
"Clean, easy-to-use" — The New York Times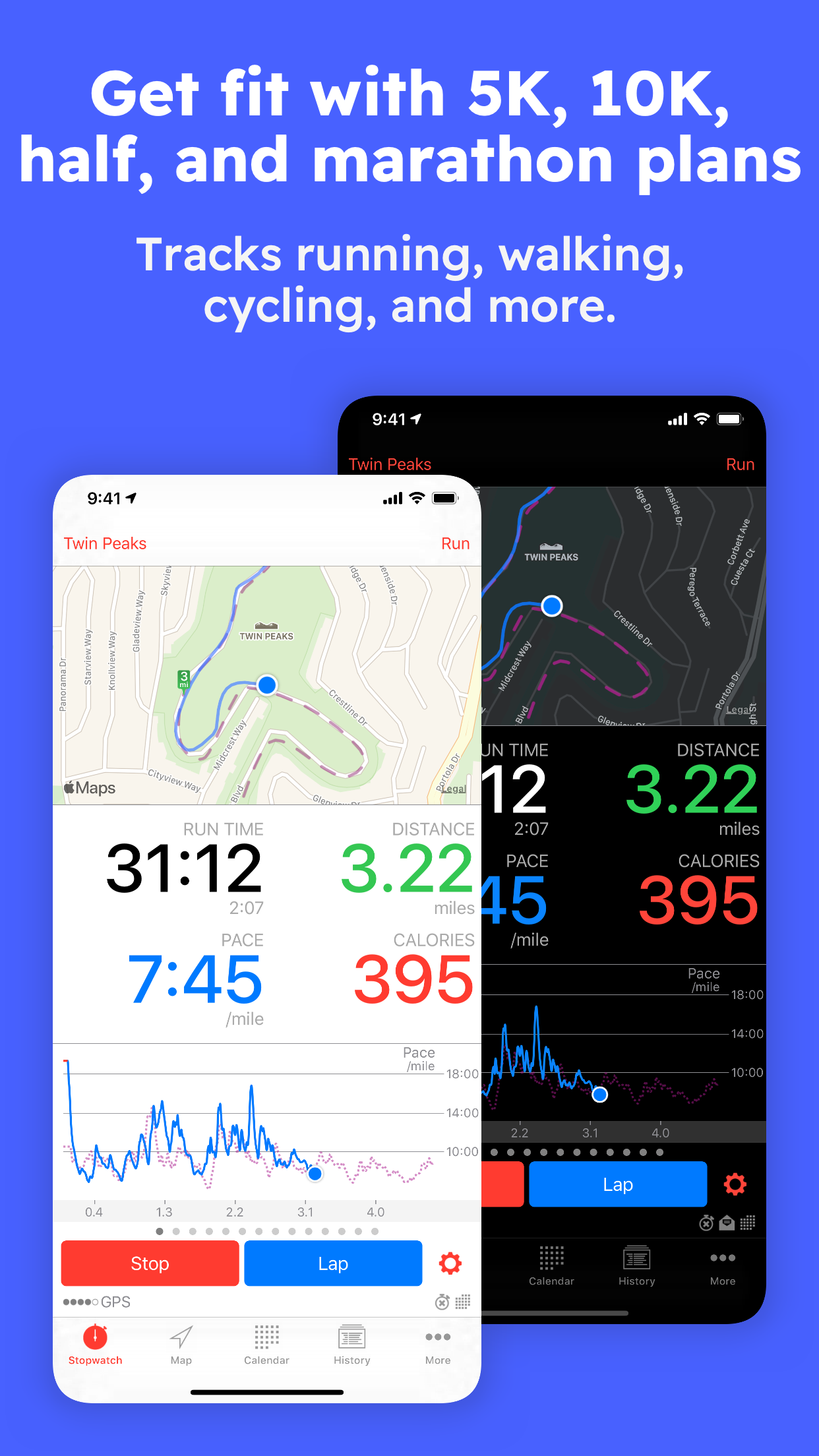 Record cycling, running, walking, hiking, and more
On a bike, on foot, or in a kayak, 5K Runmeter has you covered. Not only outdoors, but indoors on a treadmill, or on a cycling trainer, or doing calesthenics like the 7 minute workout.
---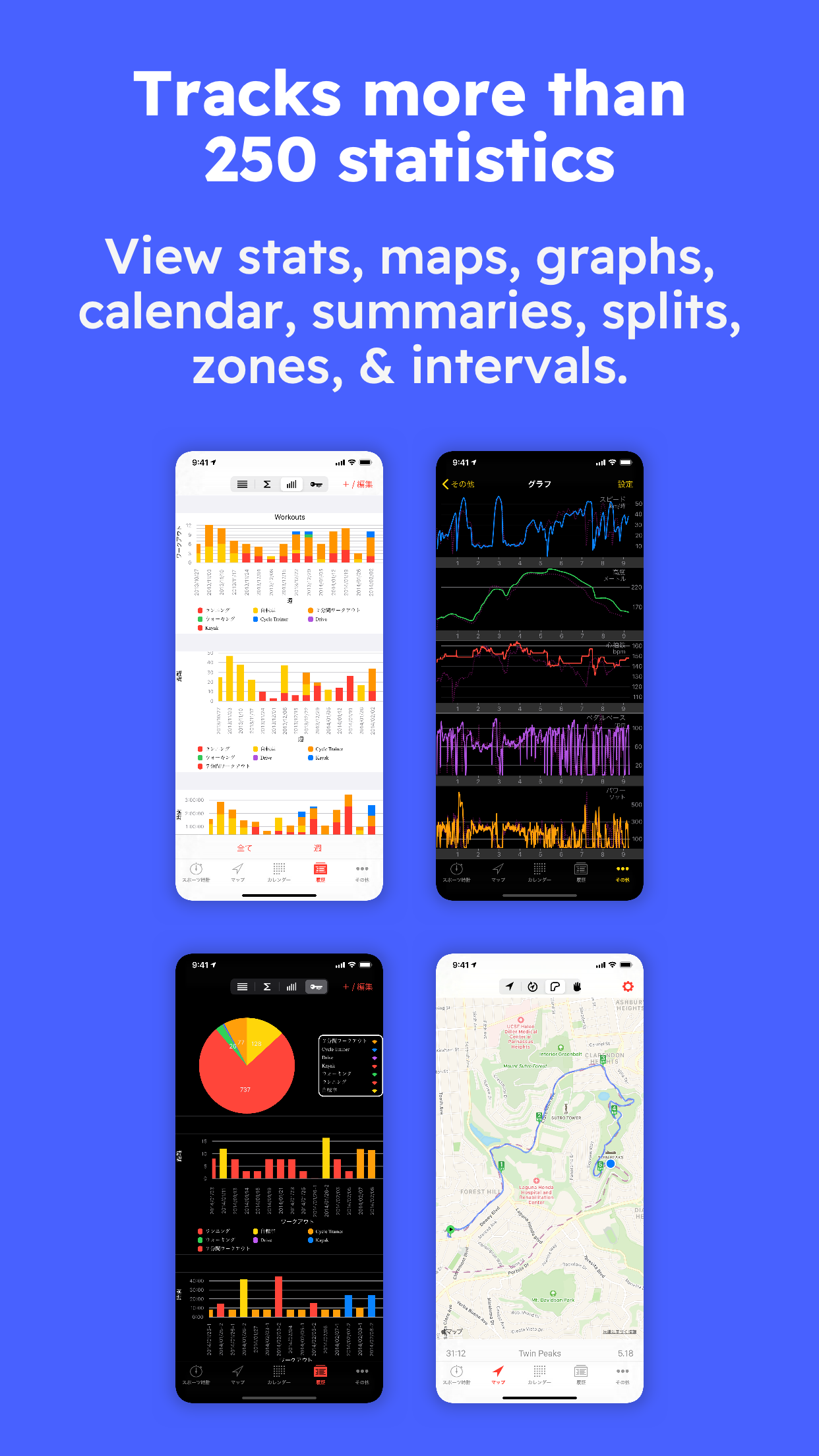 Track more than 250 statistics
View stats, maps, graphs, calendar, summaries, splits, intervals, and zones. Record heart rate with Apple Watch or a Bluetooth heart rate monitor. Want to know your previous split average speed? Your previous interval fastest speed? Your trailing split maximum heart rate? 5K Runmeter is your stats computer.
---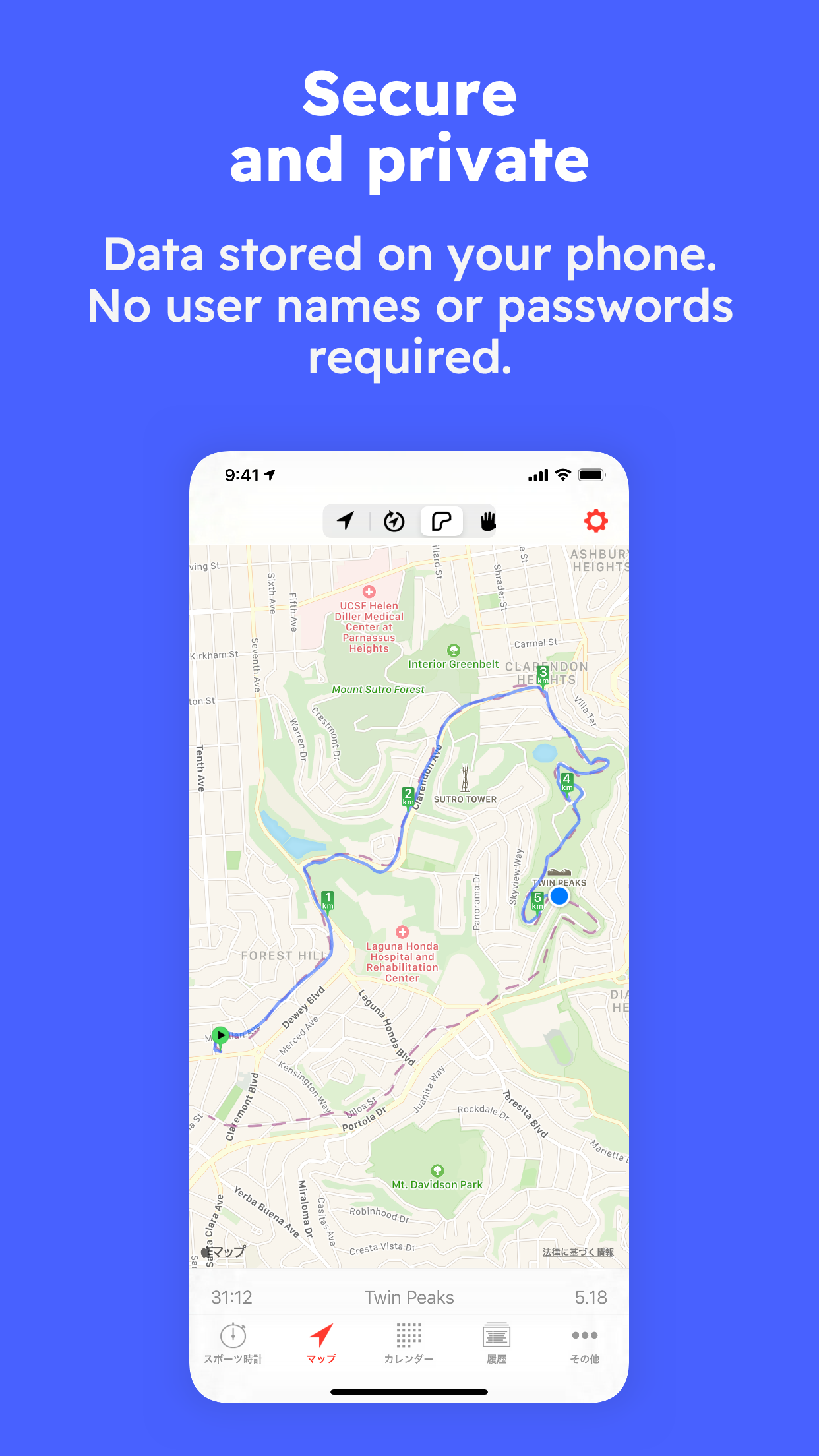 Secure and private
Data is stored on your phone until you choose to share. No user names or passwords required. Your location and workout data is private, and with 5K Runmeter you keep it that way.
---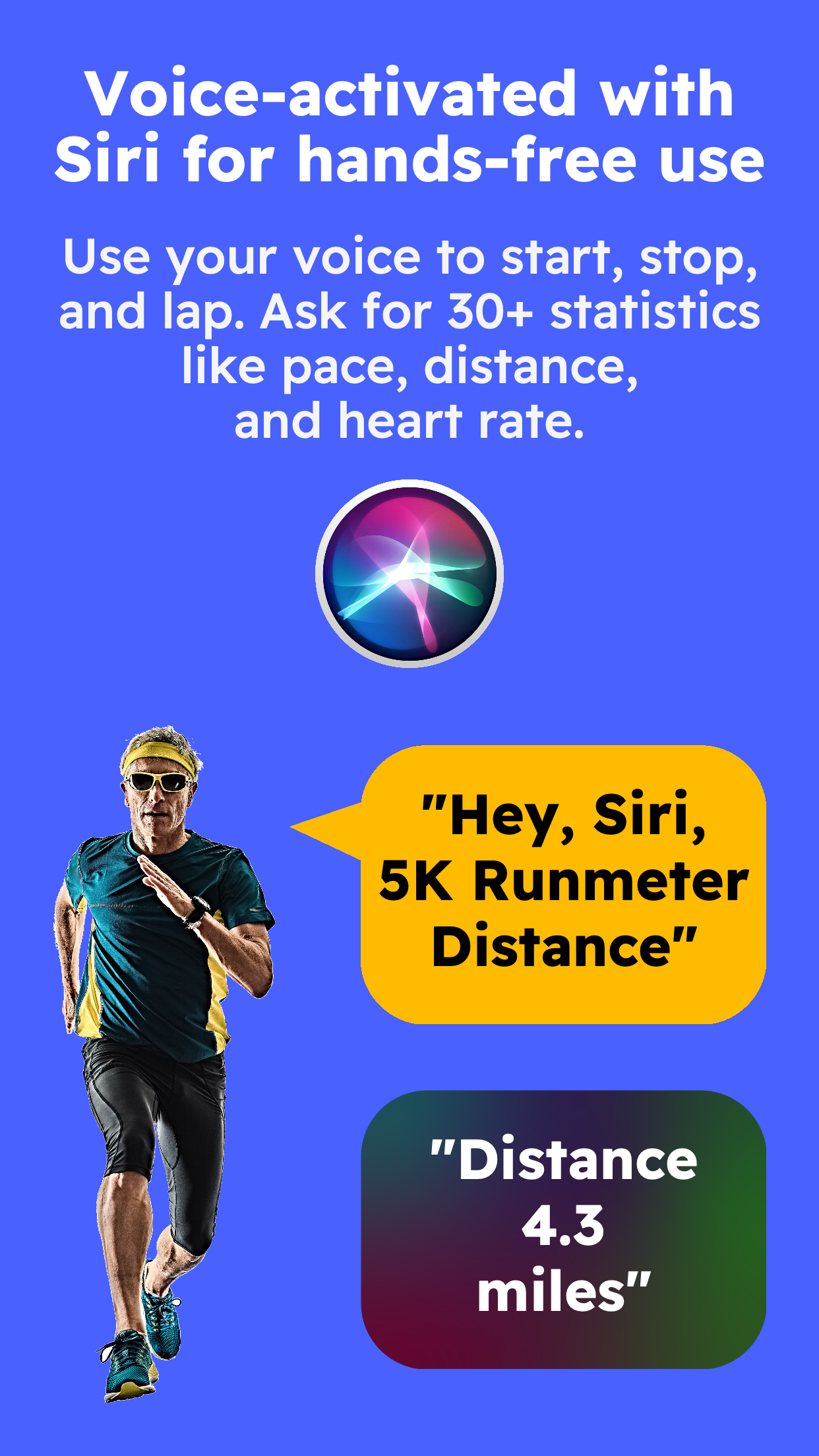 Voice-activated with Siri for hands-free use
Keep your iPhone in your pocket or cycling jersey. 5K Runmeter is the only fitness app to support Siri. First, get set up at More > Siri and enable all the commands you would want Siri to respond to. Invoke Siri with "Hey Siri" or by pressing your earphone remote, and say "Start workout with 5K Runmeter" to get started. Then "5K Runmeter stop" to stop, "5K Runmeter lap" to record a lap point or the end of an interval. Get stats, too, by saying "5K Runmeter heart rate", "5K Runmeter speed", or "5K Runmeter steps" out of nearly 30 different commands.
---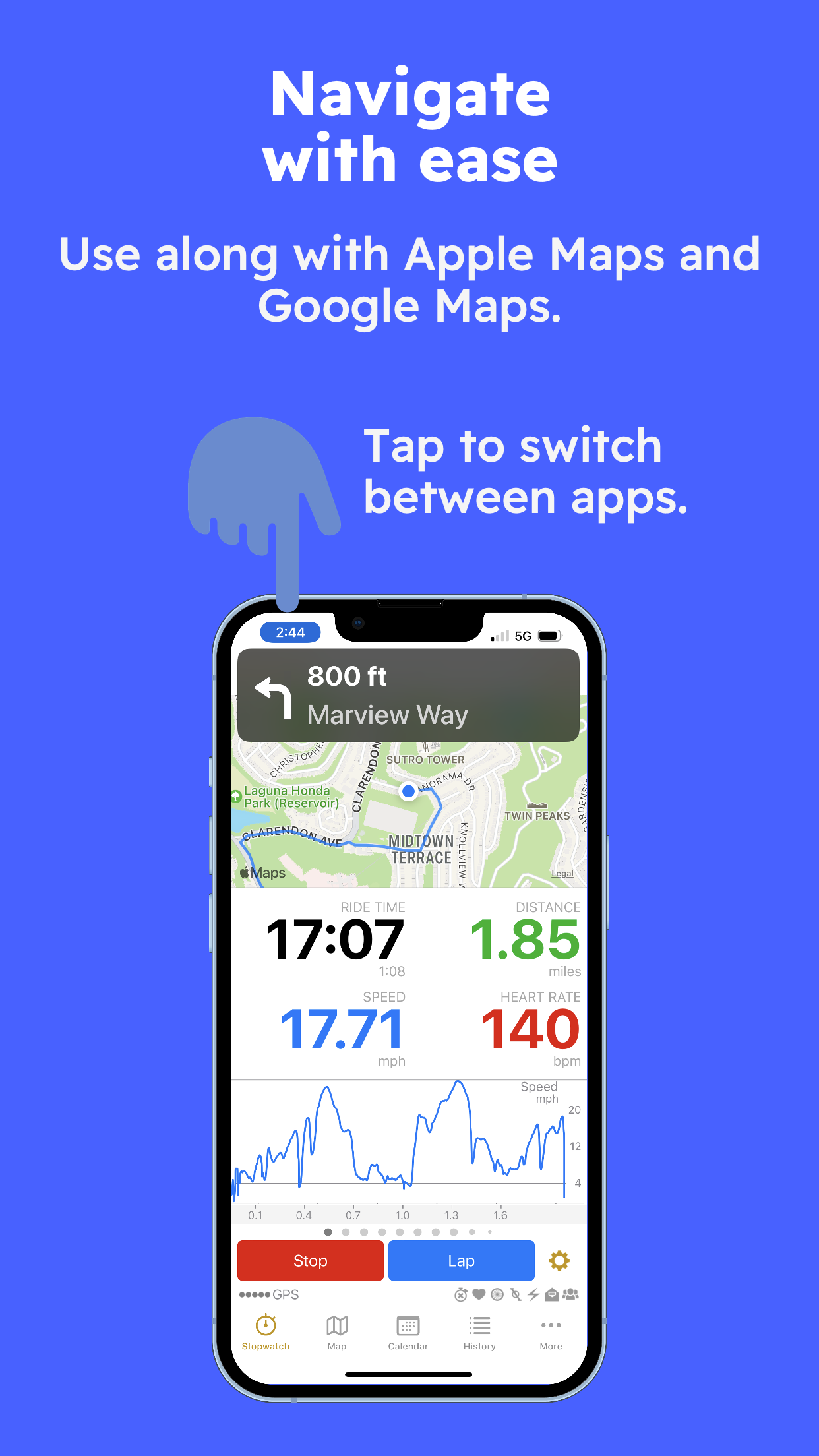 Navigate with Ease
Navigate using cycling, running, and walking directions with Apple Maps and Google Maps, while using 5K Runmeter to record your workout. Choose your destinations and routes using Apple Maps or Google Maps on your phone or desktop. If on desktop, share your navigation plan to your phone. Then start navigation on your phone, start your workout with 5K Runmeter, and get on-screen navigation and voiced navigation cues. You can easily switch between 5K Runmeter and Apple Maps or Google Maps by tapping on the blue indicator in the upper left corner of your screen.
---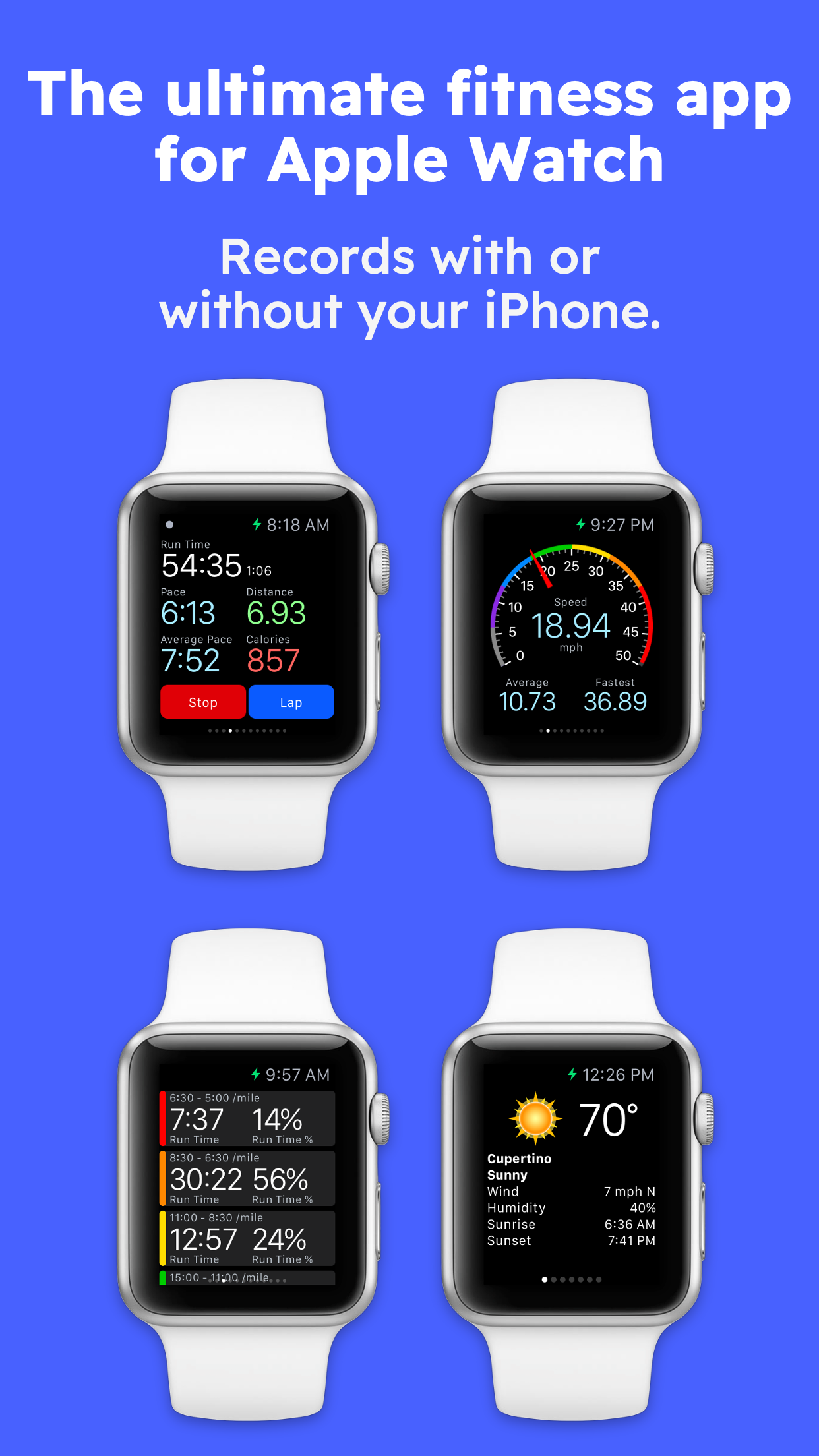 The ultimate fitness app for Apple Watch
Our Apple Watch app is completely rebuilt for standalone use. Leave your iPhone at home and record your ride, run, or walk with your Apple Watch. Using the same foundation as our iOS app, they now share the same powerful capabilities. Get announcements. Track your splits. Do interval training. Hear when your heart rate exceeds your target. If your Apple Watch has cellular access, you friends and family can also track you live and send you comments, which will be spoken to you.
---
Hear your stats
Hear your stats via announcements based on time, distance, end of split, and end of interval. Or get announcements on demand by invoking Siri and saying "5K Runmeter announcements". All audio is completely configurable, and you can get any of the hundreds of stats spoken to you during your workout.
---
View your workout online
If you choose to share, you can post your workout online for your own analysis, or for sharing with your friends, family, and coaches.
---
Share using email, Strava, Twitter, and MyFitnessPal
By default, your workouts stay on your device. But you can share with friends, family, and followers using email, Strava, Twitter and MyFitnessPal. You can also share your workouts with other apps using the share command in iOS or Android. Additionally, you can export and import using GPX, TCX, FIT, and KML formats, and you can export using CSV for analysis in spreadsheets.
---
Connects with sensors
For deeper analysis, add sensors to your workouts. Read heart rate using a Bluetooth sensor or your Apple Watch. Get your step cadence with your device's built-in accelerometer. Our sophisticated calorie calculations are made more accurate with heart rate. Use a speed sensor to measure your wheel distance and speed on a trainer. Add a bike cadence sensor, too, to know you're in the zone. And for the ultimate, connect a bike power meter to measure your power in watts or joules. 5K Runmeter also uses the barometric altimeter in your iPhone to calculate ascent and descent more accurately.
---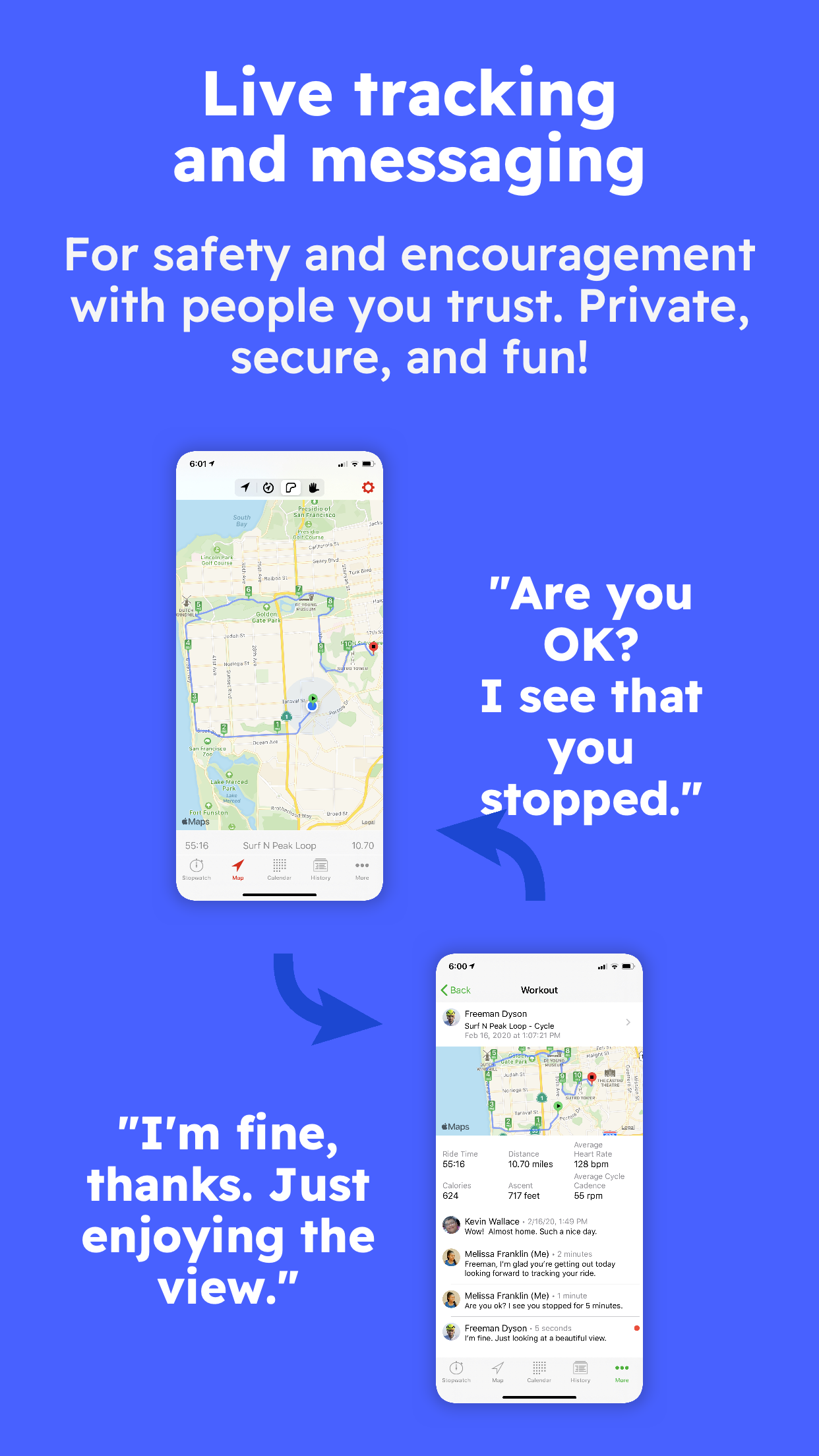 Free live tracking and messaging
For safety and encouragement, invite people you trust to securely track your workouts for free. They will see your location and path on a map, and dozens of stats. They can also type in comments on your workout which will be spoken to you using text-to-speech. It's private, secure, and free!
---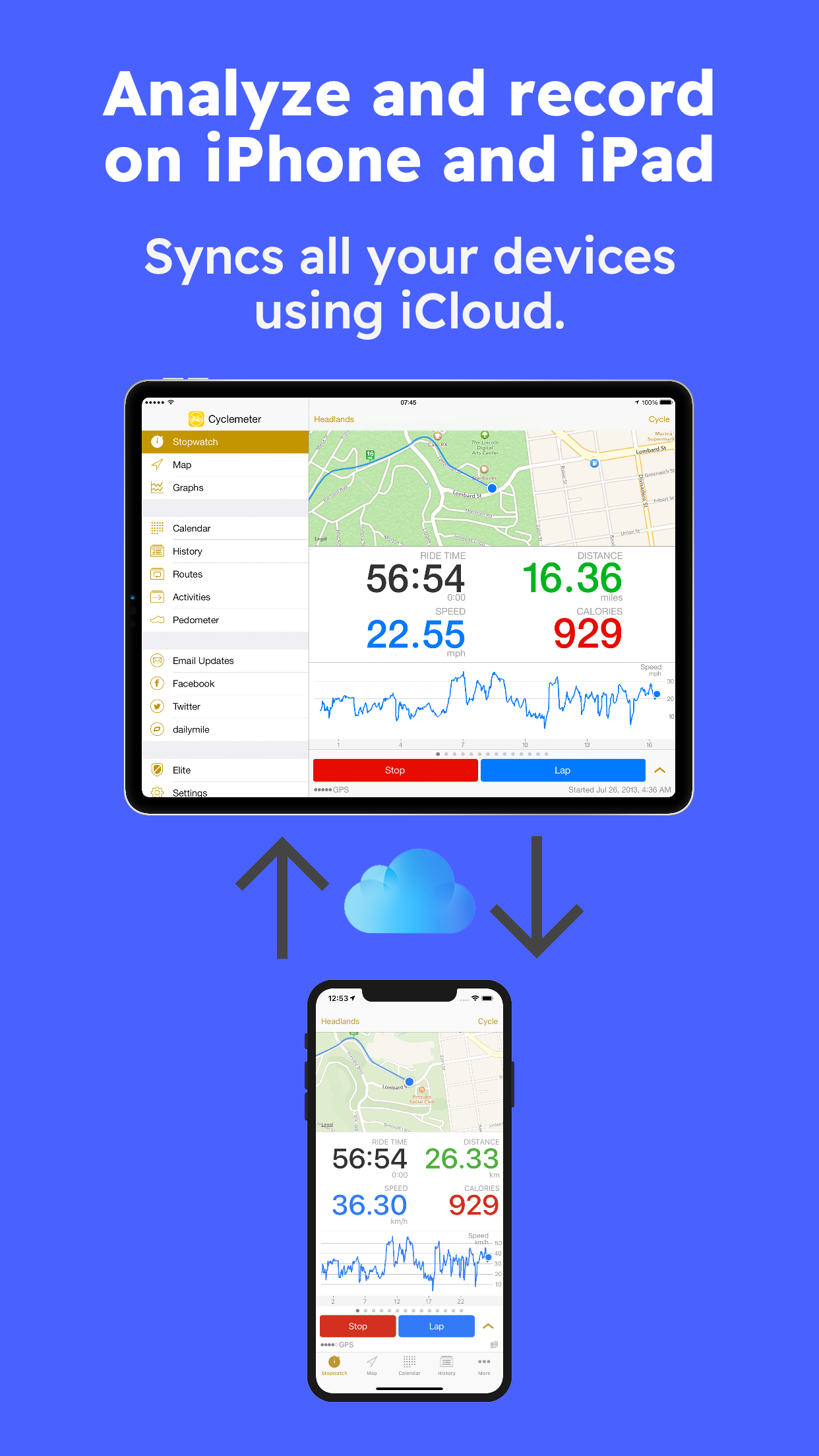 Analyze and record on iPhone and iPad
Supports iPad for both recording and analysis. Backup and sync all your devices using iCloud.
---
And so much more...
5K Runmeter has been in constant development for more than a dozen years. Every update is built upon a firm foundation, and continues to extend our lead as the most powerful app for athletes.
Swipe left and right for more Stopwatch pages, all completely configurable. Create new pages, change any stat, show maps and graphs, and more.
Save your workouts to iOS Health.
Save your workouts to your iPhone and online calendars.
Stop detection keeps only the time you are moving.
Use Apple Maps or Google Maps, including terrain.
Includes running plans for 5K, 10K, half marathon, and marathon.
Configurable interval training can guide you through your workouts.